naturbo.com.mx






ROBOCOFF >> ADVANCED MECHATRONIC TECHNOLOGY.

Mechatronic Fire Fighting. Advanced Mechanized and Computer Assisted Flames Containment and Suppression.
Unmanned Aerial Vehicle ( UAV ) and Satellite images and data links. Flames area coordinates and distribution.

FOREST FIRES CONTROL TECHNOLOGY. MECHATRONIC SYSTEMS.
INCENDIOS FORESTALES. TECNOLOGÍA DE COMBATE AL FUEGO CON SISTEMAS MECATRÓNICOS.
DISTRIBUCIÓN DE ÁREA DE FLAMAS Y COORDENADAS. DATOS. VEHÍCULO AÉREO NO TRIPULADO
( VANT ) e IMÁGENES SATELITALES.

FIRE DYNAMICS SYSTEM
"HIGH SPEED AIR JET AERODYNAMIC BLAST" FLAMES CONTAINMENT, SUPPRESSION & TOTAL EXTINCTION.
Robotically Operated and radio Controlled Fire Fighter
Description: Computer assisted fire fighting. Fire Command Center computers displays.
Fire Fighting physical escenario and mechatronic strategy. Fire Command Center.

see:

Mechatronic Fire Fighting Technology >> "RACOFF" System

see:

Computational Fire Fighting. Fire Command Center "Computer Displays"

see:

Wild-Land Suburban "Interface Fire Fighting"

see:

Fire Dynamics System. Background description and "Technical Presentation"
Technology concept presentation. Background Technical information, Operation Technometrics,
Technology diversification matrix, and new fire fighting methodology and strategies.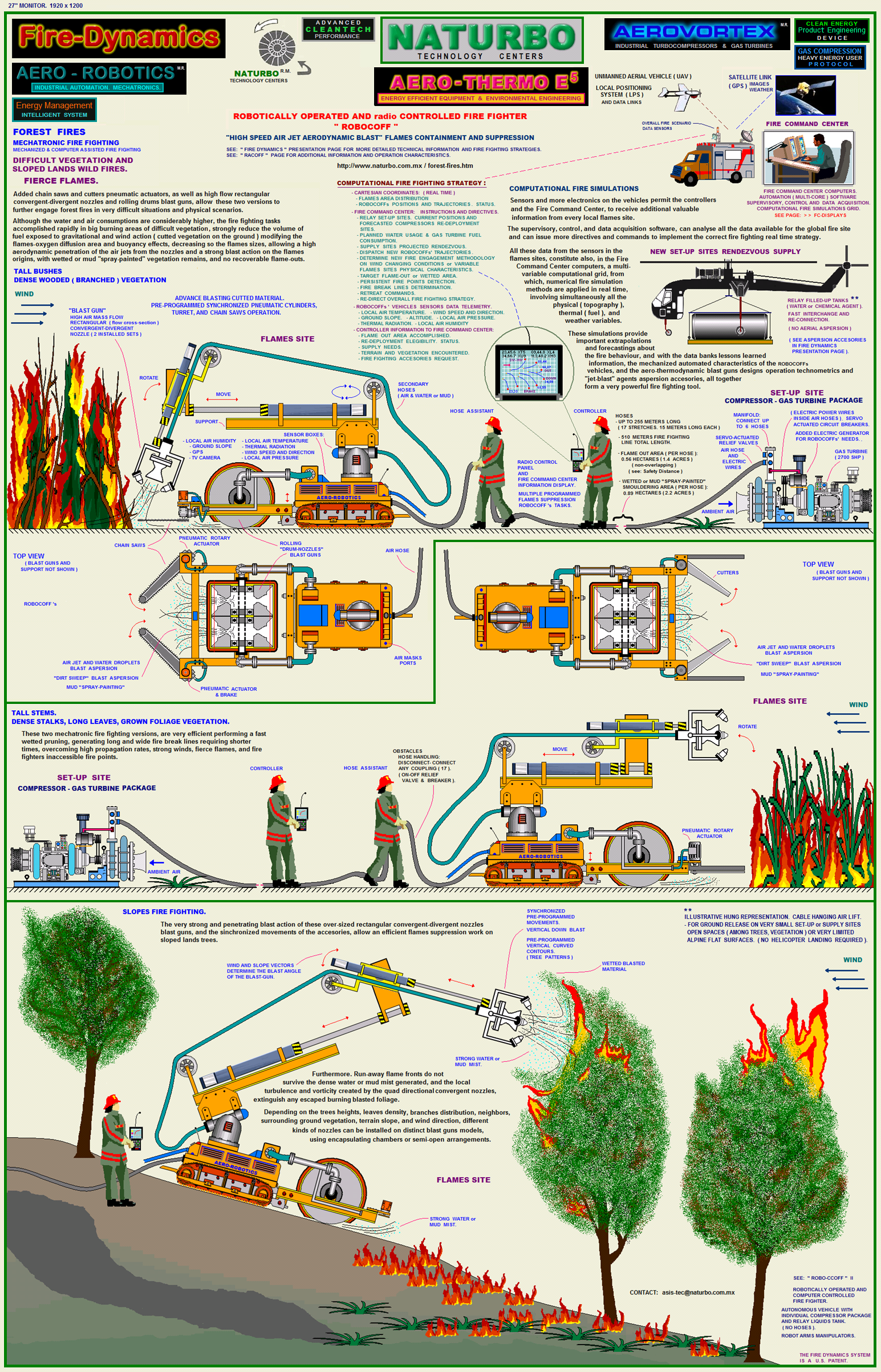 see CENTROS DE TECNOLOGIA :

A Technology View.


see also: Wild Land - Suburban interface fires. > > "fire interface"

Request additional information about ROBOCOFF Fire Dynamics

forest fire fighting technology.

Contact: Information. ROBOCOFF Forest Fire Fighter.